Adverse reactions to vaccines
An allergist's approach
Abstract
Vaccination is one of the most impactful and cost-effective interventions for improving global health. Routine immunization has reduced mortality and morbidity resulting from numerous types of infectious diseases.
The widespread use of any reagent is always associated with the risk of adverse reactions, including expected and common side effects, as well as those that are unexpected or idiosyncratic. Mild, local injection site reactions such as redness, tenderness, swelling, or constitutional symptoms such as fever and malaise, are common after vaccination and are not contraindications to further vaccination; they are generally manifestations of the physiologic response to vaccination. Uncommon reactions can vary; they may manifest as delayed hypersensitivity to vaccine components causing injection site nodules or severe, rare anaphylactic reactions. Anaphylaxis occurs at approximately one per million doses administered. The extremely rare Arthus reaction, a type of local Type 3 hypersensitivity reaction, resulting in local immune complex deposition due to the presence of pre-existing IgG antibodies, is typically limited in duration and is not a contraindication to further tetanus vaccination.
Allergists are often seen as stewards of information regarding many of these reactions, although most of these reactions are not allergic in nature. It can be difficult to distinguish between a true allergic reaction to a vaccine and other clinical manifestations that may occur during or acutely after vaccination, such as anxiety, vasovagal responses, and pronounced local reactions. Patients who have had adverse reactions to vaccines may be unnecessarily advised to avoid subsequent immunization, which can put them at risk of morbidity or mortality. The importance of making this clinical distinction has become particularly significant during the ongoing COVID-19 pandemic. The allergist plays an important role in investigating adverse reactions to vaccines and ensuring that patients who are eligible can be safely vaccinated following appropriate investigation. For those patients with true immediate-onset allergic reactions, allergists are able to provide safe revaccination following established protocols.
References
Greenwood B. The contribution of vaccination to global health: past, present and future. Philosophical Transactions of the Royal Society B: Biological Sciences. 2014 Jun 19;369(1645):20130433.
Roush SW et al. Historical Comparisons of Morbidity and Mortality for Vaccine-Preventable Diseases in the United States. JAMA. 2007;298:2155–2163.
National Advisory Committee on Immunization. Canadian Immunization Guide. Public Health Agency of Canada. 2023. Available from: https://www.canada.ca/en/public-health/services/canadian-immunization-guide.html
Muñoz CE, MacDonald B, Pham-Huy A, Vaudry W, Pernica JM, Boucher FD, Constantinescu C, Sadarangani M, Bettinger JA, Tapiéro B, Morris SK. Revaccination and Adverse Event Recurrence in Patients with Adverse Events following Immunization. The Journal of Pediatrics. 2022 Nov 1;250:45-53.
McNeil MM, Weintraub ES, Duffy J, Sukumaran L, Jacobsen SJ, Klein NP, Hambidge SJ, Lee GM, Jackson LA, Irving SA, King JP. Risk of anaphylaxis after vaccination in children and adults. Journal of Allergy and Clinical Immunology. 2016 Mar 1;137(3):868-78.
Liang JL, Tiwari T, Moro P, Messonnier NE, Reingold A, Sawyer M, Clark TA. Prevention of pertussis, tetanus, and diphtheria with vaccines in the United States: recommendations of the Advisory Committee on Immunization Practices (ACIP). MMWR Recommendations and Reports. 2018 Apr 4;67(2):1.
Kelso JM. Misdiagnosis of systemic allergic reactions to mRNA COVID-19 vaccines. Annals of Allergy, Asthma & Immunology. 2021 Jul 1;127(1):133-4.
Kelso JM, Greenhawt MJ, Li JT, Nicklas RA, Bernstein DI, Blessing-Moore J, Cox L, Khan D, Lang DM, Oppenheimer J, Portnoy JM. Adverse reactions to vaccines practice parameter 2012 update. Journal of Allergy and Clinical Immunology. 2012 Jul 1;130(1):25-43.
Cardona V, Ansotegui IJ, Ebisawa M, El-Gamal Y, Rivas MF, Fineman S, Geller M, Gonzalez-Estrada A, Greenberger PA, Borges MS, Senna G. World allergy organization anaphylaxis guidance 2020. World Allergy Organization Journal. 2020 Oct 1;13(10):100472.
Anaphylaxis and other Acute Reactions following Vaccination. Canadian Immunization Guide, Part 2 - Vaccine Safety. Ottawa (ON): Government of Canada. 2021 [updated 2023 Aug 4]. Available from: https://www.canada.ca/en/public-health/services/publications/healthy-living/canadian-immunization-guide-part-2-vaccine-safety/page-4-early-vaccine-reactions-including-anaphylaxis.html
Dreskin SC, Halsey NA, Kelso JM, Wood RA, Hummell DS, Edwards KM, Caubet JC, Engler RJ, Gold MS, Ponvert C, Demoly P. International Consensus (ICON): allergic reactions to vaccines. World Allergy Organization Journal. 2016 Jan 1;9:32.
Nilsson L, Brockow K, Alm J, Cardona V, Caubet JC, Gomes E, Jenmalm MC, Lau S, Netterlid E, Schwarze J, Sheikh A. Vaccination and allergy: EAACI position paper, practical aspects. Pediatric Allergy and Immunology. 2017 Nov;28(7):628-40.
Chu DK, Abdurrahman Z. Vaccine allergy. CMAJ. 2019 Apr 8;191(14):E395.
Sakaguchi M, Nakayama T, Inouye S. Food allergy to gelatin in children with systemic immediate-type reactions, including anaphylaxis, to vaccines. Journal of Allergy and Clinical Immunology. 1996 Dec 1;98(6):1058-61.
Kelso JM. The adverse reactions to vaccines practice parameter 10 years on-what have we learned?. Annals of Allergy, Asthma & Immunology. 2022 Jan 31.
Gerhardt CM, Castro AP, Pastorino AC, de Barros Dorna M, de Jesus Nunes-Santos C, Aquilante BP, Miyaji KT, Lopes MH. Safety of yellow fever vaccine administration in confirmed egg-allergic patients. Vaccine. 2020 Sep 29;38(42):6539-44.
Greenhawt M, Turner PJ, Kelso JM. Administration of influenza vaccines to egg allergic recipients: a practice parameter update 2017. Annals of Allergy, Asthma & Immunology. 2018 Jan 1;120(1):49-52.
Cancado B, Aranda C, Mallozi M, Weckx L, Sole D. Yellow fever vaccine and egg allergy. The Lancet Infectious Diseases. 2019 Aug 1;19(8):812.
DiMiceli L, Pool V, Kelso JM, Shadomy SV, Iskander J, VAERS Team. Vaccination of yeast sensitive individuals: review of safety data in the US vaccine adverse event reporting system (VAERS). Vaccine. 2006 Feb 6;24(6):703-7.
Scheffler SA, Vakaljan SL, Wu V, Ohayon JA. Disguised Dairy: Anaphylaxis to
"Hidden" Allergens in Routine Vaccinations in Child with Severe Cow's Milk Allergy. Journal of Allergy and Clinical Immunology. 2019 Feb 1;143(2):AB57.
Wolfson AR, Robinson LB, Li L, McMahon AE, Cogan AS, Fu X, Wickner P, Samarakoon U, Saff RR, Blumenthal KG, Banerji A. First-dose mRNA COVID-19 vaccine allergic reactions: limited role for excipient skin testing. The Journal of Allergy and Clinical Immunology: In Practice. 2021 Sep 1;9(9):3308-20.
Krantz MS, Kwah JH, Stone CA, Phillips EJ, Ortega G, Banerji A, Blumenthal KG. Safety evaluation of the second dose of messenger RNA COVID-19 vaccines in patients with immediate reactions to the first dose. JAMA Internal Medicine. 2021 Nov 1;181(11):1530-3.
Greenhawt M, Abrams EM, Oppenheimer J, Vander Leek TK, Mack DP, Singer AG, Shaker M. The COVID-19 pandemic in 2021: avoiding overdiagnosis of anaphylaxis risk while safely vaccinating the world. The Journal of Allergy and Clinical Immunology: In Practice. 2021 Apr 1;9(4):1438-41.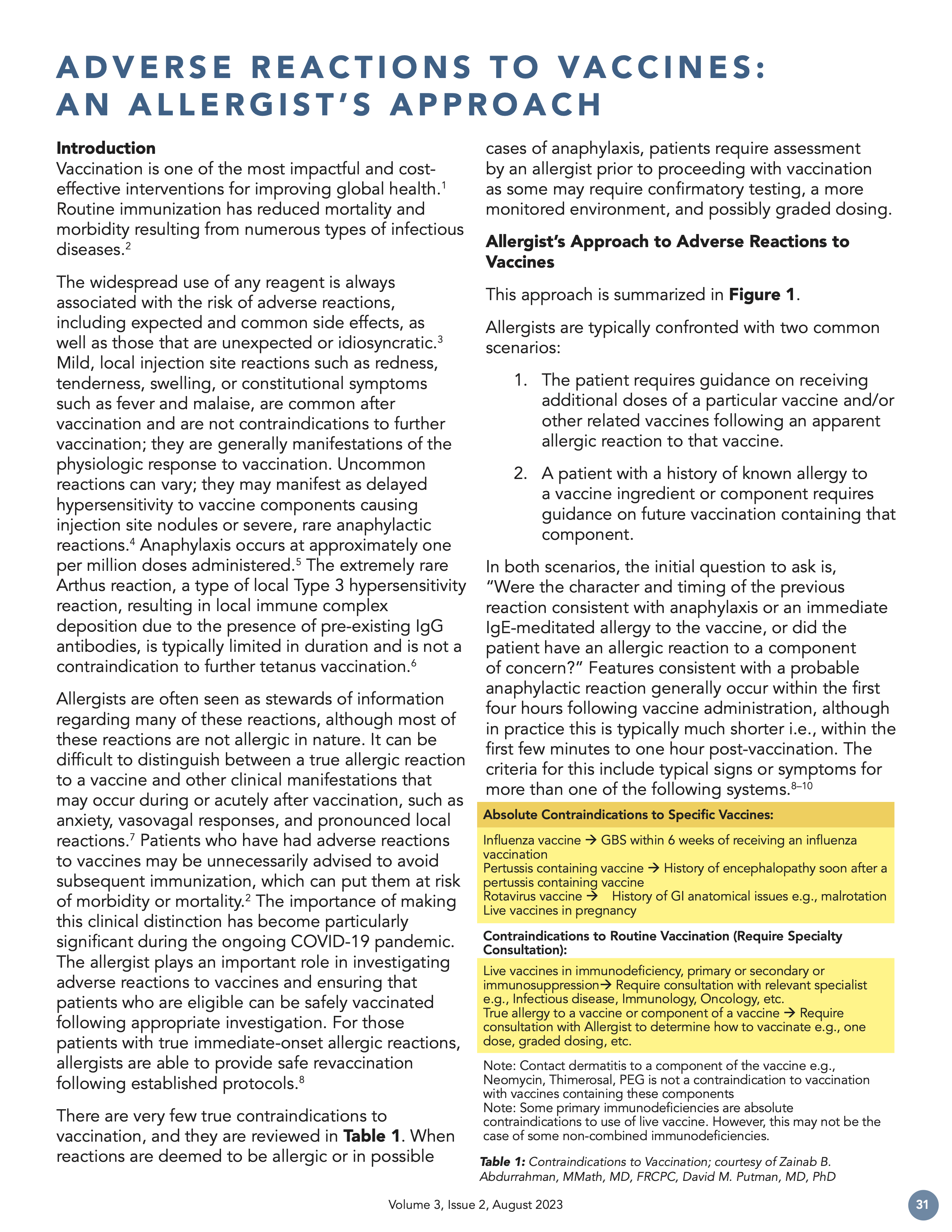 Downloads
How to Cite
1.
Abdurrahman ZB, Putman DM. Adverse reactions to vaccines: An allergist's approach. Can Allergy Immunol Today [Internet]. 2023 Aug. 31 [cited 2023 Oct. 4];3(2):30–34. Available from: https://canadianallergyandimmunologytoday.com/article/view/3-2-abdurrahman_et_al