Targeted therapies for allergic conjunctivitis
An ophthalmologist's perspective
Abstract
Allergic eye disease is extremely common as the eye is sensitive to irritants due to its constant exposure to the external environment. Approximately 40% of the general population is affected by ocular allergies. The majority of patients may also suffer with additional associated symptoms of allergic rhinitis, such as nasal congestion, sneeze, etc.; however, 6% may have isolated ocular symptoms. In addition, there are links between ocular allergies and other allergic conditions such as asthma, food allergy and atopic dermatitis. The challenge is that in addition to ocular symptoms, patients experience a substantial negative influence on their quality of life (QOL). The most common symptoms are watery and itchy eyes; redness; soreness; stinging; burning sensations; and swelling. Unfortunately, as these symptoms are quite common, most patients may choose to self-medicate and many cases are undiagnosed or underdiagnosed. As a result of this, patients may not utilize the correct management strategy; this can lead to a further propagation of symptoms and a greater reduction in patients' QOL. Hence, it is crucial for patients to seek professional medical attention, while physicians must gather a comprehensive medical history and conduct relevant investigations. Additionally, the physician ought to propose the correct diagnosis and suitable treatment plan.
References
Committee on Infectious Diseases. Influenza immunization for all health care personnel: keep it mandatory. Pediatrics. 2015;136(4):809-818.
Singh K, Axelrod S, Bielory L. The epidemiology of ocular and nasal allergy in the United States, 1988-1994. Journal of Allergy and Clinical Immunology. 2010;126(4):778-783.
Gradman J, Wolthers OD. Allergic conjunctivitis in children with asthma, rhinitis and eczema in a secondary outpatient clinic. Pediatric Allergy and Immunology. 2006;17(7):524-526.
Berta A, Higazy MT, Petricek I, Prost ME, Németh J. Red Eye: Differential diagnosis and management. Debrecen (HU): External Eye Disease Working Group; 2007.
Beuerman R, Mircheff A, Pflugfelder S, Stern M. The lacrimal functional unit. In: Plfugfelder S, Beuerman R, Stern M, eds. Dry eye and ocular surface disorders. New York (NY): Marcel Dekker; 2004. p. 11-39.
Barney NP, Cook EB, Stahl JL. Allergic and immunologic diseases of the eye. In: Middleton's Allergy. Philadelphia (PA): WB Saunders; 2014. p. 618-637.
Ackerman S, Smith LM, Gomes PJ. Ocular itch associated with allergic conjunctivitis: latest evidence and clinical management. Ther Adv Chronic Dis. 2016;7(1):52-67.
Kimchi N, Bielory L. The allergic eye: recommendations about pharmacotherapy and recent therapeutic agents. Curr Op Allergy Clin Immunol. 2020;20(4):414-420.
Bielory L, Delgado L, Katelaris CH, Leonardi A, Rosario N, Vichyanoud P. ICON: diagnosis and management of allergic conjunctivitis. Annals of Allergy, Asthma & Immunology. 2020;124(2):118-134.
Carr WW, Nayak AS, Ratner PH, Gow JA, McNamara TR, Williams, JI. Efficacy of bepotastine besilate ophthalmic solution 1.5% for seasonal allergic conjunctivitis: a randomized, placebo-controlled, natural exposure, clinical trial. Allergy Asthma Proceedings. 2013 May;34(3).
Williams JI, Kennedy KS, Gow JA, Torkildsen GL, Abelson MB, Gomes PJ, McNamara TR; Bepotastine Besilate Ophthalmic Solutions Study Group. Prolonged effectiveness of bepotastine besilate ophthalmic solution for the treatment of ocular symptoms of allergic conjunctivitis. J Ocul Pharmacol Ther. 2011;27(4):385-393.
Macejko TT, Bergmann MT, Williams JI, Gow JA, Gomes PJ, McNamara TR; Bepotastine Besilate Ophthalmic Solutions Clinical Study Group. Multicenter clinical evaluation of bepotastine besilate ophthalmic solutions 1.0% and 1.5% to treat allergic conjunctivitis. Am J Ophthalmol. 2010;150(1):122-127.
Ilyas H, Slonim CB, Braswell, GR, Favetta JR, Schulman M. Long-term safety of loteprednol etabonate 0.2% in the treatment of seasonal and perennial allergic conjunctivitis. Eye & Contact Lens. 2004;30(1):10-13.
Leonardi A, Doan S, Aragona P, Amrane M, Ismail D, Montero J, Bremond-Gignac D. Topical cyclosporin A cationic ophthalmic emulsion in paediatric vernal keratoconjunctivitis: pooled analysis of randomised NOVATIVE and VEKTIS trails. Eye (Lond). 2023 Aug;37(11):2320-2326.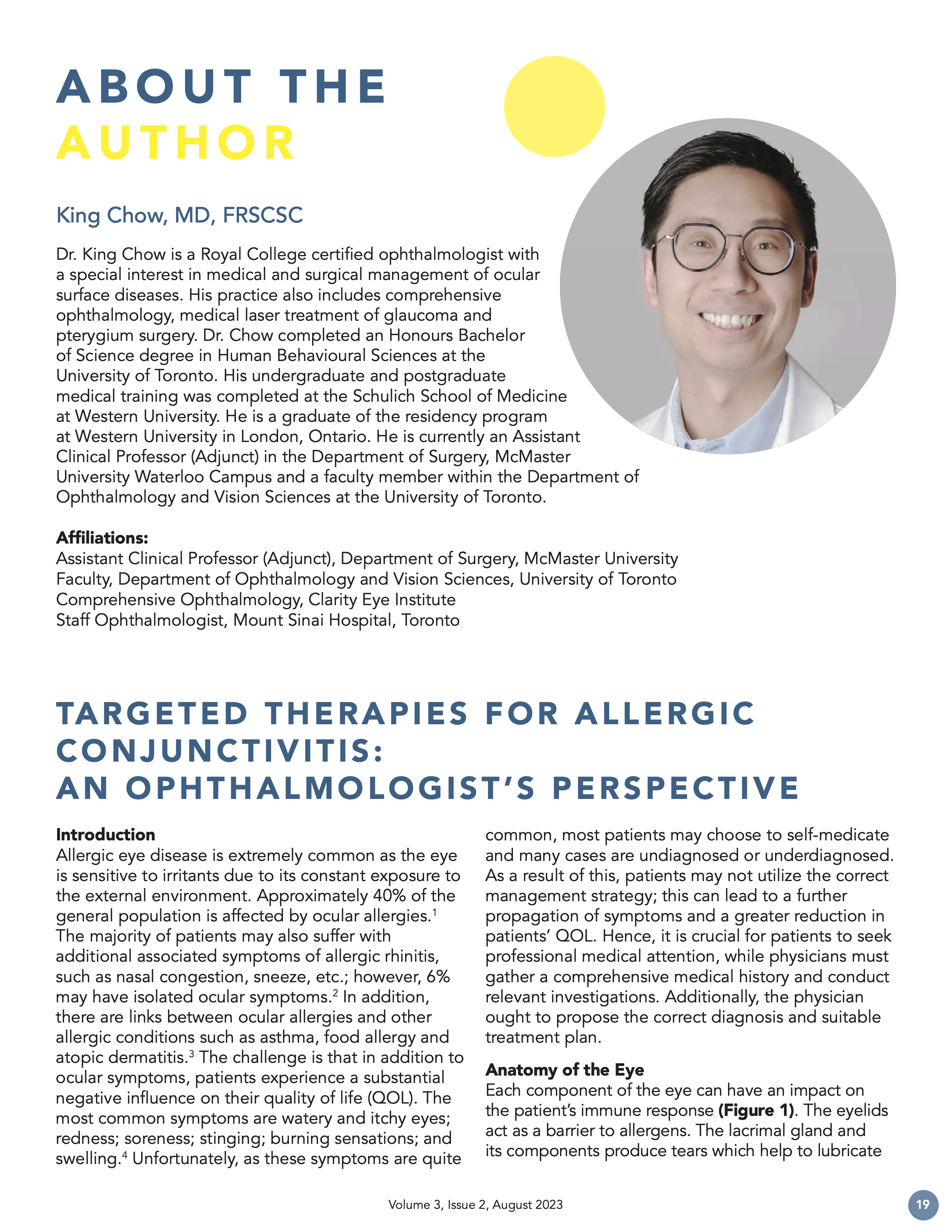 Downloads
How to Cite
1.
Chow K. Targeted therapies for allergic conjunctivitis: An ophthalmologist's perspective. Can Allergy Immunol Today [Internet]. 2023 Aug. 31 [cited 2023 Oct. 4];3(2):19–23. Available from: https://canadianallergyandimmunologytoday.com/article/view/3-2-chow