ANCA-associated vasculitis for the allergist and immunologist
A clinical update
Abstract
The anti-neutrophil cytoplasmic antibody (ANCA)-associated vasculitides are a group of multisystemic, relapsing, autoimmune diseases that include eosinophilic granulomatosis with polyangiitis (EGPA), granulomatosis with polyangiitis (GPA), and microscopic polyangiitis (MPA). While rare, with incidences between 1 and 25 per 100,000 individuals/year, these are diagnoses that should not be missed, as unrecognized, they are associated with significant morbidity and mortality. Despite their infrequency, international collaborative research has resulted in multiple new therapeutic strategies across all three diseases.
References
Kitching AR, Anders HJ, Basu N, Brouwer E, Gordon J, Jayne DR, Kullman J, Lyons PA, Merkel PA, Savage CO, Specks U. ANCA-associated vasculitis. Nature Reviews Disease Primers. 2020 Aug 27;6(1):71.
Doubelt I, Cuthbertson D, Carette S, Chung SA, Forbess LJ, Khalidi NA, Koening CL, Langford C, McAlear CA, Moreland LW, Monach PA. Clinical manifestations and long-term outcomes of eosinophilic granulomatosis with polyangiitis in North America. ACR Open Rheumatology. 2021 Jun;3(6):404-12.
Srouji IA, Andrews P, Edwards C, Lund VJ. Patterns of presentation and diagnosis of patients with Wegener's granulomatosis: ENT aspects. The Journal of Laryngology & Otology. 2007 Jul;121(7):653-8.
Furuta S, Iwamoto T, Nakajima H. Update on eosinophilic granulomatosis with polyangiitis. Allergology International. 2019;68(4):430-6.
Grayson PC, Ponte C, Suppiah R, Robson JC, Craven A, Judge A, et al. 2022 American College of Rheumatology/European Alliance of Associations for Rheumatology Classification Criteria for Eosinophilic Granulomatosis with Polyangiitis. Ann Rheum Dis. 2022;81(3):309-14.
Suzuki M, Nakazono A, Morita S, Fukuda A, Honma A, Suzuki T, Kimura S, Nakamaru Y, Homma A. Comparison of clinical characteristics of the nasal manifestations of eosinophilic granulomatosis with polyangiitis (EGPA) and eosinophilic chronic rhinosinusitis (ECRS). Allergology International. 2021;70(1):143-4.
Mukherjee M, Thomas SR, Radford K, Dvorkin-Gheva A, Davydchenko S, Kjarsgaard M, Svenningsen S, Almas S, Felix LC, Stearns J, Li QZ. Sputum antineutrophil cytoplasmic antibodies in serum antineutrophil cytoplasmic antibody-negative eosinophilic granulomatosis with polyangiitis. American Journal of Respiratory and Critical Care Medicine. 2019 Jan 15;199(2):158-70.
D'Anza B, Langford CA, Sindwani R. Sinonasal imaging findings in granulomatosis with polyangiitis (Wegener granulomatosis): A systematic review. American Journal of Rhinology & Allergy. 2017 Jan;31(1):16-21.
Chung SA, Langford CA, Maz M, Abril A, Gorelik M, Guyatt G, et al. 2021 American College of Rheumatology/Vasculitis Foundation Guideline for the Management of Antineutrophil Cytoplasmic Antibody-Associated Vasculitis. Arthritis Rheumatol. 2021;73(8):1366-83.
Guillevin L, Lhote F, Gayraud M, Cohen P, Jarrousse B, Lortholary O, Thibult N, Casassus P. Prognostic factors in polyarteritis nodosa and Churg-Strauss syndrome a prospective study in 342 patients. Medicine. 1996 Jan 1;75(1):17-28.
Dutertre M, Pugnet G, De Moreuil C, Bonnotte B, Benhamou Y, Chauveau D, Diot E, Duffau P, Limal N, Néel A, Urbansky G. Efficacité à long terme des schémas d'induction de la rémission au cours de la granulomatose éosinophilique avec polyangéite: résultats de l'essai REOVAS. La Revue de Médecine Interne. 2022 Dec 1;43:A375-6.
Latorre M, Baldini C, Seccia V, Pepe P, Novelli F, Celi A, Bacci E, Cianchetti S, Dente FL, Bombardieri S, Paggiaro P. Asthma control and airway inflammation in patients with eosinophilic granulomatosis with polyangiitis. The Journal of Allergy and Clinical Immunology: In Practice. 2016 May 1;4(3):512-9.
Wechsler ME, Akuthota P, Jayne D, Khoury P, Klion A, Langford CA, et al. Mepolizumab or Placebo for Eosinophilic Granulomatosis with Polyangiitis. N Engl J Med. 2017;376(20):1921-32.
Detoraki A, Tremante E, Poto R, Morelli E, Quaremba G, Granata F, et al. Real-life evidence of low-dose mepolizumab efficacy in EGPA: a case series. Respir Res. 2021;22(1):185.
Anai M, Yoshida C, Ozono K, Furukawa H, Ishimaru Y, Sakata S, Saruwatari K, Muramoto K, Tomita Y, Saeki S, Ichiyasu H. Successful concomitant therapy with mepolizumab and dupilumab for atypical eosinophilic granulomatosis with polyangiitis. Allergology International. 2022;71(2):259-61.
Krishnan A, Walsh M, Collister D. Management of antineutrophil cytoplasmic antibody-associated vasculitis: a changing tide. Current Opinion in Nephrology and Hypertension. 2023 May 1;32(3):278-83.
Lally L, Lebovics RS, Huang WT, Spiera RF. Effectiveness of rituximab for the otolaryngologic manifestations of granulomatosis with polyangiitis (Wegener's). Arthritis Care & Research. 2014 Sep;66(9):1403-9.
Cazzador D, Padoan R, Colangeli R, Pendolino AL, Felicetti M, Zanoletti E, Emanuelli E, Martini A, Doria A, Nicolai P, Schiavon F. Health-related quality of life in patients with anca-associated vasculitis and sinonasal involvement: a single-center cross-sectional study. JCR: Journal of Clinical Rheumatology. 2022 Jan 1;28(1):e89-94.
Moor MB, Suter-Riniker F, Horn MP, Aeberli D, Amsler J, Möller B, Njue LM, Medri C, Angelillo-Scherrer A, Borradori L, Radonjic-Hoesli S. Humoral and cellular responses to mRNA vaccines against SARS-CoV-2 in patients with a history of CD20 B-cell-depleting therapy (RituxiVac): an investigator-initiated, single-centre, open-label study. The Lancet Rheumatology. 2021 Nov 1;3(11):e789-97.
Roberts DM, Jones RB, Smith RM, Alberici F, Kumaratne DS, Burns S, Jayne DR. Immunoglobulin G replacement for the treatment of infective complications of rituximab-associated hypogammaglobulinemia in autoimmune disease: a case series. Journal of Autoimmunity. 2015 Feb 1;57:24-9.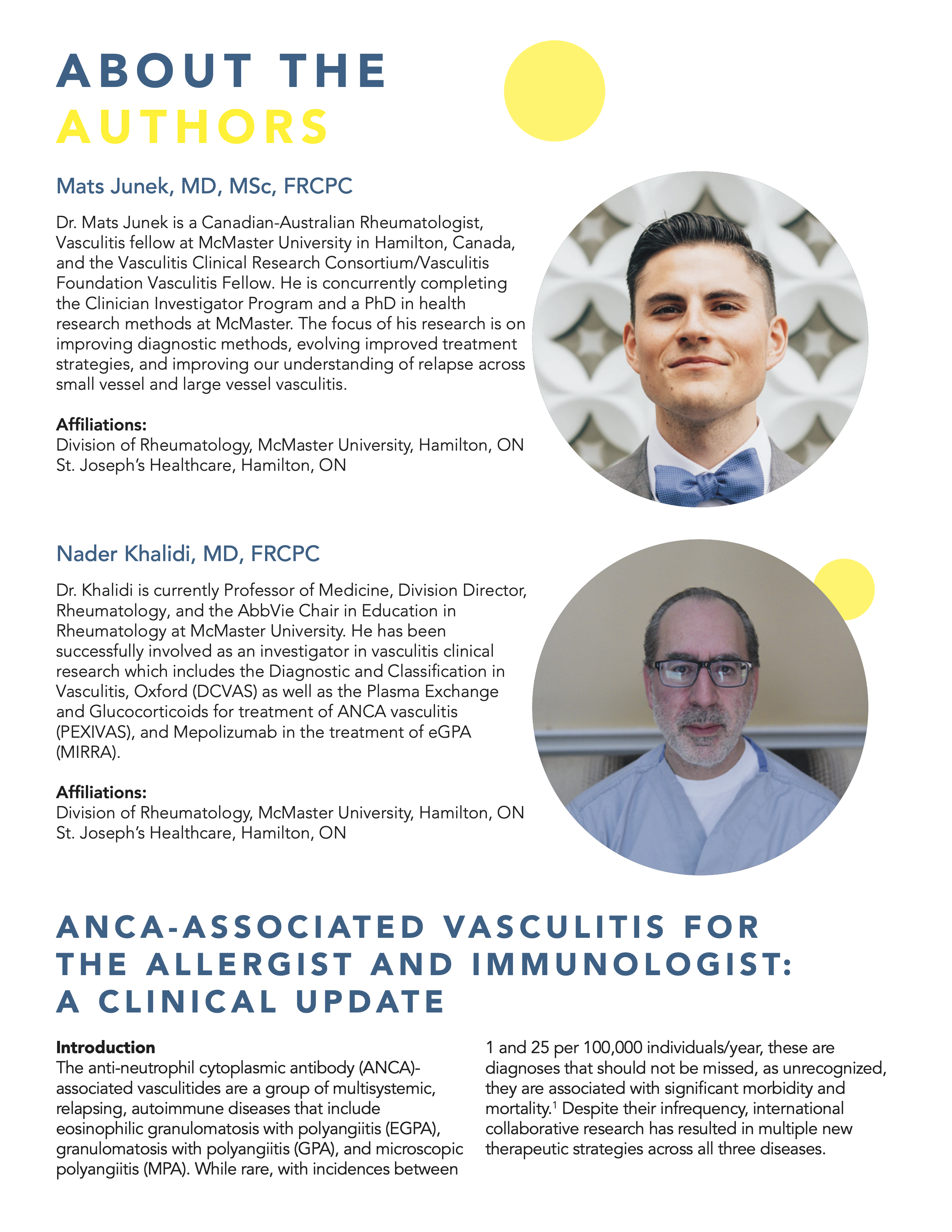 Downloads
How to Cite
1.
Junek M, Khalidi N. ANCA-associated vasculitis for the allergist and immunologist: A clinical update. Can Allergy Immunol Today [Internet]. 2023 Aug. 31 [cited 2023 Oct. 4];3(2):13–16. Available from: https://canadianallergyandimmunologytoday.com/article/view/3-2-junek_et_al